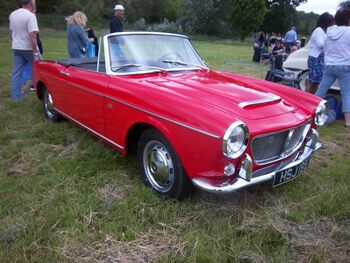 The
Fiat 1200
was introduced in Turin Motor Show in November 1957 and is prized by collectors for its cuteness. The 1200 Fiat or Granluce Fiat 1200, was intended to replace the Fiat 1100-103 TV - Turimo Veloce. Equipped with a new engine of 1221 cc developing 55 hp. The 1200 saloon/berlina was based on the
Fiat 1100
which, visually, it closely resembled.
Based on this engine, Fiat introduced at the same time the cabriolet version called "Trasformabile" natural successor to Fiat 1100-103 Trasformabile.
The 1200 Trasformabile was replaced in 1959 by Fiat Cabriolet 1200 Pininfarina, while the 1200 Granluce was listed out in September 1961, when new and more modern 1300 took its place.
Approximately 400,000 copies of the Fiat 1200 were built until 1960, when Fiat presented the 1100 and Special Export.
Gallery