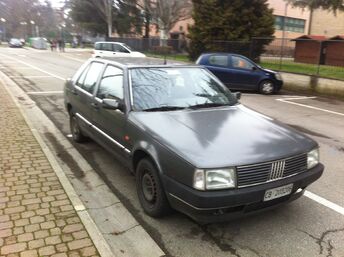 The Fiat Croma is a nameplate used for two automobiles produced by Italian automaker Fiat, one a large family car built from 1985 to 1996 and the other a cross-over wagon built from 2005 to 2011.
1st Generation (1985-1996)
The original Croma was a five-door notchback liftback penned by Giorgetto Giugiaro of Ital Design and built on the Type Four platform, which was designed in cooperation between several companies and was also used for the Saab 9000, Lancia Thema and Alfa Romeo 164. Although the other models were executive cars, the Croma was marketed in the large family car segment, replacing the Fiat Argenta in the Fiat lineup.
The Croma was the first large car produced by Fiat to feature a transverse-mounted engine and front wheel drive.
The Croma was 1987 Semperit Irish Car of the Year in Ireland.
Engines
The Croma was available with a variety of petrol and diesel engines, the former from the Fiat DOHC engine family. Base models had the 1585 cc, 83 PS (61 kW) and 1995 cc, 90 PS (66 kW) "Controlled High Turbulence" powerplants, followed by two fuel injected 2.0 L units, one with 120 PS (88 kW) and the other a turbocharged and intercooled version giving 153 PS (113 kW). The 2.5 L petrol V6 unit was from Alfa Romeo, but as with the 1.6 L engine, was not available in all markets.
The Fiat Croma was the first passenger car in the world to have a direct injection Diesel (Turbo D i.d.) engine in (1986). Diesel engines were the Fiat's 1.9 L fitted with a turbocharger with direct injection, giving 92 PS (68 kW), and the 2499 cc unit supplied by Iveco, with a normally aspirated version giving 75 PS (55 kW) and a turbocharged one with 115 PS (85 kW). This one replaced the previous 2446 cc with 100 PS (74 kW). Diesel engined variants of this car were not marketed in the UK.