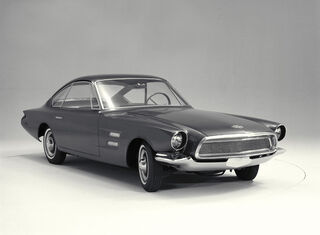 The Allegro was the first of the second-generation X-Cars, fashioned in late 1962 was based upon the earlier DeLaRossa Aventurra design and built on a Falcon unibody.
The Allegro presented a Cobra-esque front end design, and presaged the later production Mustang fastback roof. The small, vestigal fin picked up elements of the '61-'63 Thunderbirds, also. Though the proportions on the front clip were exaggerated, the fastback roof had clear influence on the first-generation  1965 Mustang fastback. There were two Allegros built: a red-painted fiberglas mule that appeared in a 1964 Mustang promotional film and a fully-functional car.
Community content is available under
CC-BY-SA
unless otherwise noted.