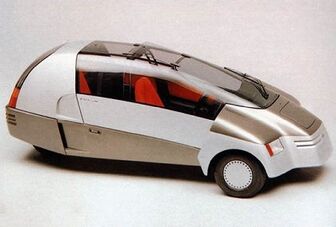 The
Ford Cockpit
three-wheeler was displayed at the 1982 show. It was built by
Ghia
in 1981.
It was a mileage champ, offering fuel economy of better than 75 miles per gallon. The bubble canopy recalled the styling of a fighter jet, but the 200cc, 12 horsepower engine provided less-than stellar acceleration and top speed. This commuter special featured a sophisticated hydraulic suspension and was lightened by the extensive use of plastic, including the entire canopy structure. The three-hinged canopy lifted hydraulically upward, revealing an aircraft-style cockpit, hence the car's name.
Seating two people in a tandem position, and featuring a single rear wheel driven by a motor, the Cockpit was intended for use in heavily-congested cities.
The engine itself was ingeniously mounted inside the single rear wheel, saving space inside the Cockpit's cabin.
The windshield was made of laminated glass and the canopy and rear window were made of reinforced plastic. The transverse-spring front suspension was controlled by hydraulic shock absorbers. While the rear-mounted engine and driving wheel were set at the apex of the chassis and sprung by two integral coil spring shock absorbers.
This car never got any further than the concept stage.
Community content is available under
CC-BY-SA
unless otherwise noted.