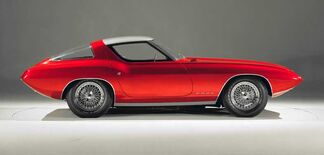 In the 1963 Ford showed the third Cougar dream car, it was called Cougar II.
This very handsome two-passenger GT sports car would have made a timely contender to the popular Corvette String Ray. (Ford explained that GT, or gran Turismo, is a term usually applied to two-seat coupes designed for super highways.) Cougar II featured a fastback roof, concealed "pop-up" headlamps, and a serious, fully instrumented interior. The Cougar II, the third of the X-Car group, was named after the Cougar I, which preceded it by a scant 18 months.
It was the most radical of the first three show cars and was not based upon an established Ford platform. Instead, the iridescent candy red car was constructed on AC-Cobra tube frame obtained from the newly-created Carroll Shelby Enterprises in California. However, the chassis set up had to be modified: To clear the hood, the high-performance 289 Ford engine was moved rearward in the chassis. Intended as a response to the powerful and lithe Ferrari, it was the most competition-oriented of the first three X-Cars.
Community content is available under
CC-BY-SA
unless otherwise noted.