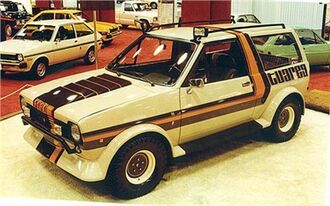 The
Ford Fiesta Tuareg
was a concept car built in 1978, being equipped for rugged off-road recreational use.
The Fiesta Tuareg was a functional one-of-a-kind all-terrain vehicle. Based on Ford's popular Fiesta, the Tuareg was a joint design project between Ford's Ghia Operation in Turin, Italy, and the Ford Design Center in Dearborn, Michigan.
The concept car is built on a 90-inch wheelbase and powered by a 1.1-litre engine with a four-speed manual transmission.
Community content is available under
CC-BY-SA
unless otherwise noted.