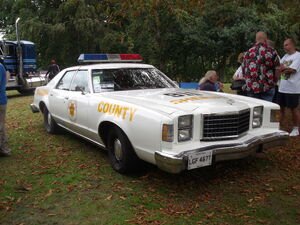 The Ford LTD II was the last mid-size car built by the Ford Motor Company between 1977 and 1979 for the North American market. It was based on the Ford Torino, which it replaced, and used the same platform as the concurrent Ford Thunderbird, which was downsized and dramatically reduced in price for 1977 to occupy the market position of the 1974-76 Ford Elite, which was a Torino derivative designed to compete with the popular Chevrolet Monte Carlo.
The largest car ever marketed as a midsize, the LTD IIs styling emulated the squared-off grille and body lines of the larger LTDs, which were produced until the 1978 model year. A two-door coupe and four-door sedan were available in all three model years, with a four-door station wagon offered for 1977 only. It was also the platform for the final Ford Rancheros.
While 1977 sales were reasonably strong, they dropped dramatically for 1978 and 1979 in the face of newly downsized intermediate models from General Motors, as well as Chrysler's new Dodge Diplomat and Chrysler LeBaron and Ford's own Fairmont, which took over the mid-size wagon slot for 1978. Ford downsized its own full-size LTD for 1979, with dimensions very similar to the LTD II, though the Panther body LTD had much greater passenger and luggage space.
The LTD II was not directly replaced in the Ford lineup. The Fox platform-based Granada and then LTD became the midsize entry, mostly through default. The interior dimensions of both were virtually identical to the compact 1978 Fairmont, and quite similar to Chrysler's K-car series. Noticeably more cramped than the LTD II or competition Malibu and Celebrity; the Chevrolets easily outsold Dearborn's entry in the segment. Ford would not have a true replacement for the midsize market in terms of interior space until the Taurus was introduced as an 1986 model.
Engine choices were all V8s; the 5.0 L 302 Windsor, the 5.8 L 351M, the 5.8 L 351 Windsor, or the 6.6 L 400 Cleveland. The 400 was not available in 1979. The 302 was not available in California.