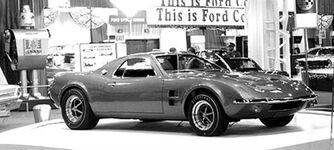 The
Ford Mach 2
was a concept car that toured the auto show circuit in 1967.
The mid-engine, road-ready prototype was built by Kar Kraft in Brighton, Michigan. The car was a highly modified two-seater based on a shortened version of the existing Mustang chassis. The Mach 2 was strongly influenced by GT styling. It was fitted with a 289 cubic inch V8 with raised carburettor intake ports on the rear deck. Styling featured included engine exhausts through the chopped-off rear grille, doors that opened into the roof, a rear canted radiator exhaust grille depressed in the hood surface, and cargo space for two suitcases behind the air exhaust.
It was designed with a semi-monocoque steel and fiberglass body, and weighed only 2650 pounds. There was ducted ventilation to the heater and air conditioner, fixed and flush mounted side windows. The rear suspension was trailing link in combination with two lateral control arms.
Community content is available under
CC-BY-SA
unless otherwise noted.