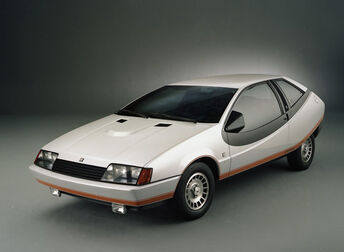 The
Ford Megastar II
was a concept car built by Ghia in 1978.
The Megastar II was a five-passenger, wedge-shape concept that rode on a 101-inch wheelbase. It was powered by a two-litre four-cylinder engine. Its two-door aluminum body had an extended front section, and short, squaretail rear, designed to benefit stability and fuel economy. A copper-tinted windshield and door glass blended with the honey-colored velvet-like upholstered material. Ford displayed the first Megastar prototype at the 1978 Chicago Auto Show, when it was fitted with a three-liter V-6.
The car was built for the family of the future. The car was based on Ford's European Taunus Sport. The Megastar II was fitted with a four-speed manual transmission, independent front and rear suspension and aluminum alloy wheels.
The front of the car incorporates a louvered, airfoil grille with four headlights recessed behind clear plastic covers. Additional halogen driving lamps are located beneath an impact-absorbent front bumper, also shaped for reduced wind resistance.
Megastar II's tailgate opens to the top of the rear bumper, with the assistance of gas-filled struts. The rear seats fold down individually to provide additional luggage space.
Teardrop-shaped door windows are lowered electrically, and front-hinged quarter windows can be opened for the comfort of rear-seat passengers.
The interior of Megastar II features black leather upholstery and black carpeting with orange stripes to reflect the car's exterior colour scheme.
The instrument panel is a modular unit behind the padded four-spoke steering wheel. Instruments and controls always are illuminated behind a heavily tinted screen for reflection-free visibility.
Dual exterior mirrors can be adjusted electrically from the driver's seat.
Community content is available under
CC-BY-SA
unless otherwise noted.