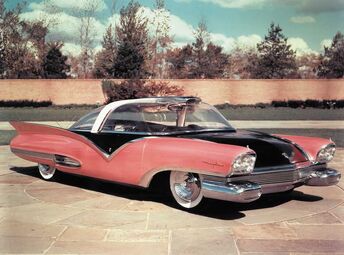 The
Ford Mystere
is a rear-engined concept car that was created by Bill Boyer of the Advanced Styling Studio in the summer of 1954.
The car was originally done specifically for the 1955 January Detroit Auto Show, but because of the styling elements it shared with Ford's 1957 product line it didn't debut at the 1955 Detroit Auto Show. The Mystere influenced the 'swash' bodyside molding of the 1957 Fairlane 500, and also the fin development on the quarter panel and taillights of all models.
In September of 1955 Ford finally released photos of the Mystere. The Mystere was a futuristic body design of a car that would be propelled by a gas turbine powerplant. The car was on display during the 1956 Chicago Extravagaza, the prototype show car had no engine, although provisions were made to fit one under the rear deck. Cargo and spare tire were housed under the front hood. A large bubble of glass served as roof, windows and windshield. This entire dome lifted up so people could get in and out of the car, being hinged at the back.
The front seats would swivel outward and passengers could easily enter and exit through half-doors. The scoop at the top of the windshield supplied fresh air into the four-passenger cockpit. A radiotelephone was housed in a console between the two rear bucket-type seats. The aircraft-type steering wheel was a "throw-over," meaning that the car could be driven from either front seat. Other modern features were pushbutton ignition switch, padded dash and a television set behind the front seat. The front bumper pods are air cooler reservoirs.
Community content is available under
CC-BY-SA
unless otherwise noted.