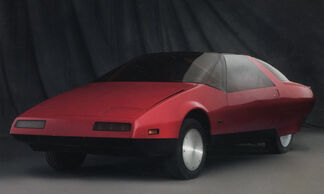 The Ford Probe I was a concept car built by Ghia in 1979.
The car represents the rebirth of the "American Dream Car" that Harley Earl's Buick Y-Job started in 1939 and GM continued with the Motorama Extravaganza's of the 1950s.
The Probe I is a product of the collaborative efforts of the famous Turin based design firm Carrozzeria Ghia and Ford. Probe I marks the beginning of a new era. An era brought about by a fuel crisis, at a time where a shift in consciousness toward a cleaner environment was born.
Probe I was created at the Ford Dearborn Design Center where Kopka was the executive director of the Advanced and International Design Studio. Its sleek and pointy aerodynamic shape, flat wheel covers, popup headlights and skirted rear wheels achieved a drag coefficient in the wind tunnel of 0.25. It was introduced at the Frankfurt Motor Show in September 1979. Probe I was extensively displayed at shows and events following its introduction and received widespread media attention, helping to spread the impression that Ford was on to something.
Built on a Mustang chassis of the period, the Probe I package envisioned a collection of the advanced technological functions with which show concepts seem to be endowed. Probe I once had the 2.3 litre Mustang four-cylinder engine and automatic transmission but they have long since been removed. Ford claimed the Probe I could achieve a fuel economy of 39 miles per gallon.
Finished in red with black lower body sides that accentuate the deep rear wheel skirts, Probe I has a body constructed of metal with a fixed tinted glass roof panel. The windows are tinted glass. The wheels have machined disc-type wheel covers to reduce turbulence. The interior is upholstered in red cloth with tan leather trim.
Community content is available under
CC-BY-SA
unless otherwise noted.