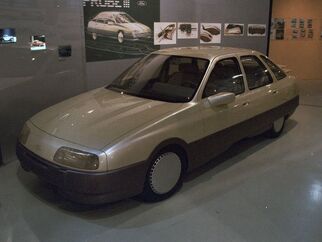 The Ford Probe III was a concept car that would eventually become the Ford Sierra.
The car was first shown at the Frankfurt motor show in September 198, a year before the Sierra would go into production.
The good reception this received encouraged Ford's management to go ahead with a production car with styling almost as challenging. This "aero" look influenced Fords worldwide.
Some Cortina fan's didn't receive the car well as they knew that it was going to replace their favourite car. This was due to the car's radical styling which was ahead of its day.
The car was a beautifully detailed concept. It featured overly aerodynamic features including Citroënesque enclosed rear wheels, smooth underbody detailing, flush glazing, and integrated door mirrors (which would appear on the production 1988 Probe couple no less). The car's CD was 0.25, which was actually a world away from the production Sierra's 0.34.
Community content is available under
CC-BY-SA
unless otherwise noted.