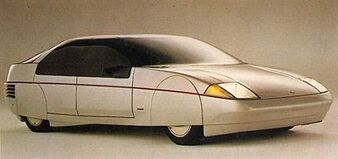 The Ford Probe IV was a concept car built in 1983. The car was painted snow white.
It was an amazingly aerodynamic yet practical hatchback. It's Cd figure of 0.15 was spectacular. This was achieved by wheels covered by urethane "membranes", meticulous airflow management and a spoiler at the base of the windscreen.
The ultimate Probe V of a few years later extended the aerodynamic theme still further.
The car was fitted with an automatic gearbox and a grey swede interior. The instrument panel was in one continuous plastic panel which started with the instrument binnacle and swept around to the gearbox.
Community content is available under
CC-BY-SA
unless otherwise noted.