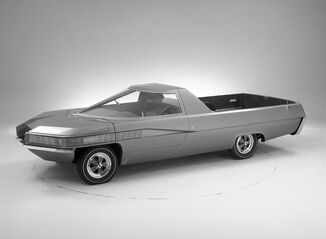 The Ford Ranger II is a concept car from 1966.
The Ford Ranger II was a concept truck with a futuristic look created with a streamlined windshield, high-intensity head lights (of rectangular design) and Clearwater Aqua finish.
Syd Mead created a design for a convertible Ford pickup, similar to the modern Chevrolet SSR. According to Syd, "This was designed to mount onto a '63 Ford station wagon frame. It was fully operational with A/C, radio and a fully operational top conversion. The small rear 'cab' roof slid back, a rear seat unfolded and a 'filler' section with window rose into position. This meant that, sacrificing bed length, the vehicle converted electrically from a bench seat, three-passenger vehicle into a five-passenger close-coupled club sedan/truck. The vehicle was toured for about two years."
The car can be used as a two-seater but also converts into a four-passenger pickup at the flick of a switch. The rear portion of the cab moves 18-inches into the bed of the truck while a roof section moves up into position and two additional bucket seats fall into place. The Ranger II's ultra-streamlined windshield is made of specially tempered plastic-type glass. It also features high intensity headlights of rectangular design, extruded aluminum grille and walnut flooring in the cargo bed.
Community content is available under
CC-BY-SA
unless otherwise noted.