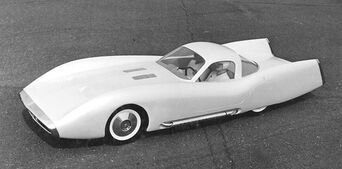 The Ford Thunderbird Mexico was a concept car built in 1956, as a a styling exercise.
Alex Tremulis' design philosophy had always been to strike a happy marriage between aircraft and automotive styling. It would be at Ford that he'd finally be able to prove his automotive philosophy in the design for a streamlined Thunderbird capable of speeds of over 200 miles per hour.
It opened the door to the windtunnel for the first serious investigation of the new aerodynamic art of the automobile. Although the Mexico never made it to a full-scale model, the development of many future record-setting race cars and their drivers would benefit directly from the lessons learned by Tremulis a decade earlier.
Community content is available under
CC-BY-SA
unless otherwise noted.