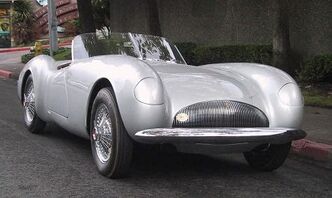 The
Ford Vega
was a concept car produced in 1953 at the behest of the Ford Motor Company. Only one example was created.
Design
Vince Gardner, a Cord designer responsible for the Cord 810, was commissioned by Henry Ford II to produce a lightweight, two-seat roadster. Gardner's design was two years in production and used an Anglia chassis with one-off lightweight aluminum bodywork. Some styling touches, such as the pop-up headlamps, were Cord-inspired details. Power came from an elderly 136 in3 V8, which produced 60 bhp, yielding performance that compared unfavorably with the Chevrolet Corvette C1 of the same vintage. Celebrities such as Groucho Marx and Howard Hughes visited the Ford facilities building the Vega by invitation from Henry Ford II. Henry Ford II proudly displayed the car at the firm's 50th anniversary.
Influence
The Vega was an expensive one-off project and it did not yield a car that could be produced for a competitive price. As an exercise, however, it was a success. The production of a stylish roadster kindled interest within Ford concerning making its own modern sporty roadster, which led directly to the creation of the highly successful Ford Thunderbird in 1955. The Thunderbird convertible held the same niche as the Vega would have. After the introduction of the Ford Mustang in 1964, the Thunderbird shifted emphasis away from these performance aspirations and towards increased luxury, so as not to cannibalize sales within the Ford enterprise.
Eventual fate
The single car was displayed for several years in the Ford Rotunda Exhibition Center in Dearborn, Michigan, remaining in the property of Ford. In the 2006 Barrett-JacksonScottsdale Auction it was sold for $385,000 to private collector Sam Pack, in whose possession it remains.
Community content is available under
CC-BY-SA
unless otherwise noted.