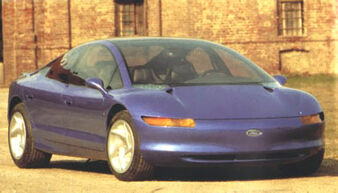 The Ford Via was a concept car produced by Ghia in 1989 for Ford.
The Via was first shown at the 1989 Geneva Motor Show, being called a "Ford Sierra Cosworth for the next decade". The car was designed by a team of British stylists: the brothers lan and Moray Callum, David Wilkie and Sally Wilson. It was a very smart and sleek four-door saloon with an intended specification that included a turbo V8 engine and six-speed gearbox. One of its highlights was a fibre-optics system for navigating in fog; another was a fully detachable photo- sensitive glass roof.
A removable center section of the Via's targa roof has glass that darkens when the sun is out. First displayed in Europe during 1989, the Via made its North America debut at the 1990 Chicago show. The styling cues on the Via inspired future Ford model designs like the two-door Probe and four-door Taurus.
Community content is available under
CC-BY-SA
unless otherwise noted.