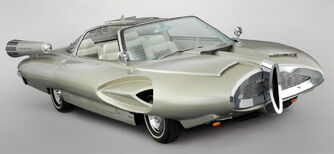 The
Ford X2000
was a concept car built by Tremulis and Bill Balla in 1957.
Like Tremulis's X-1000 that preceded the X2000, little on the car was meant to predict the shapes or features of Fords of the immediate future; they were intended to be advanced concepts of the far-flung automotive future. However, the Farrells note that the X2000′s grille shape certainly predicted the Edsel's horse-collar grille. Not many automotive historians connect Tremulis to the Edsel's most distinctive shape today, possibly because the X2000 was only completed as a 3/8-scale model and only shown in person at the Ford Rotunda.
Community content is available under
CC-BY-SA
unless otherwise noted.