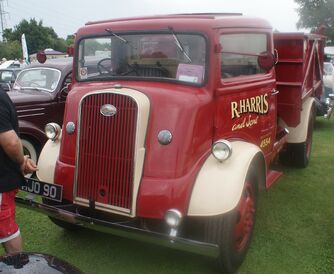 The Fordson Thames 7V or Fordson 7V was unveiled in 1937 as a successor to the Ford Model BB, built until 1949.
The 7V had a payload of up to 5 tons a was a very modern truck in its age with a great maneuverability in urban environments. Two different wheelbases were available and the chassis were supplied for the basis for various body constructions. For example, was the Fordson Thames 7V, at the time of the Second World War, was the most widely used fire truck. The model was fitted with the universally known 3.7 litre Ford Flathead V8 side-valve engine which had a power output of 85 hp. Using a three-speed (optional four-speed) gearbox and propeller shaft the power was diverted to the rear wheels.
Early 7Vs that were built in the years 1937 and 1938 had a curved rounded grille, while the grille was flat on the 7Vs built from 1939. These measures were consequences of shortage of raw materials due to the outbreak of war. The production of civil 7Vs was maintained throughout the war although an armored version for the army was also produced.
Immediately after the war, numerous improvements were introduced, the most outstanding was a completely new brake system. A 4.7-liter Perkins straight six-cylinder diesel engine with 45 horsepower was available as an option from 1948 onwards.
Ebro built the model under license as the Ebro 7V.
By mid-1949, the Thames 7V was replaced by the Fordson Thames ET.
Community content is available under
CC-BY-SA
unless otherwise noted.