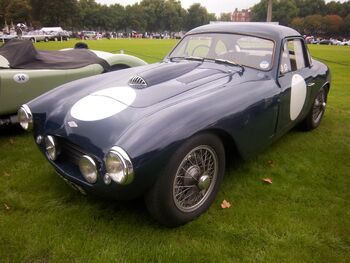 The Frazer Nash Le Mans Coupé was a 1950s sports car manufactured by Frazer Nash.
The cars had a 2-litre 16-valve engine. The car pictured won its class at the 1952 Le Mans 24 Hours (13th overall) driven by Ken Wharton and Lawrence Mitchell. The next year it was placed 11th overall driven by Marcel Becquart and Maurice Gatsonides.
Similar to the Frazer Nash Targo Florio, 9 Le Mans Coupés were built, three of which raced at Le Mans.