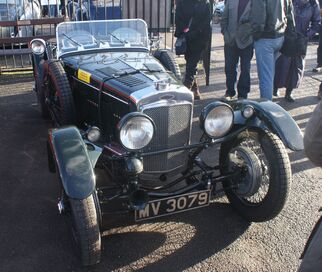 The TT Replica was a car produced between 1932 and 1939 by Frazer Nash. A total of 83 cars were made.
The TT replica had a 1.5 L in line 4-cylinder or 1660 cc in line 6-cylinder engines that could produce up to 60bhp.
Production started with a meadows 4 cylinder overhead valve engine with twin carbs,f ollowed the next year by a 6 cylinder engine made by Blackburne.
Body styling was bulbous rear end taken up by a large fuel tank and prominent filler and cap.