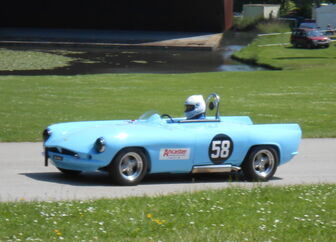 The
GSM Delta
is a South African-designed sports car built in the late 1950s and early 1960s. John Scott introduced the Delta to the UK and set up a factory in West Malling, Kent. Only 30 were ever built at the Kent factory and less than 10 survive.
The Delta was GSM's first production model. The car used a variety of engines including Coventry Climax and Ford Anglia 100E and 105E units fitted into a ladder type chassis with transverse springs at the front and coil springs at the rear. Cars had a glass fibre open two seat body fitted, but a hardtop was later available which had a reverse slanted rear window which later Fords also exhibited.
The Delta was actually called the Dart so but 'Dart' was a registered trademark of Chrysler so it was renamed in the UK.