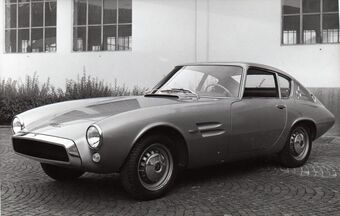 The
1500GT
was a car made by Ghia between 1962 and 1967 with 846 cars being produced.
The two-seater Coupe was based on a shortened Fiat 1500 C chassis and powered by a mildly tuned version of the Fiat's 1500cc in-line, four cylinder engine. The unit was mated to a four speed manual gearbox. Suspension was independent by coil springs at the front and a leaf-spring mounted live axle at the rear. The car rode on pretty Borrani wire wheels. Thanks to its streamlined shape the 1500 GT was capable of around 110mph - an impressive speed for a 1500cc car of this period.
Around 36 have been officially exported to the USA. The cars where imported in the US by Krim Car Import Company from Detroit, Michigan. The company had also an agency in in Beverly Hills, California.
Movie Appearances
In the French movie "Duex hommes dans la Ville" from José Giovanni and with Alain Delon and Jean Gabin from 1973, there is on Ghia 1500 GT being crashed. Its not unlikely that they even used more than one car for this scene. The English title is "Two man in town".