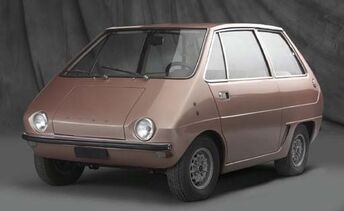 The
Ghia City Car
is a concept car built in 1970.
It is the only surviving example from the brief period when Ghia was owned by Alejandro deTomaso prior to Ghia's acquisition by Ford. The Ghia City Car is typical of the late Sixties - early Seventies.
The Ghia City Car is one of the earliest of many examples of a compact car.  All, like the Ghia City Car, are powered by the smallest possible engines. They reflected the 1973 energy crisis
The engine was intended to be a 500cc unit with the car seating four and provision for luggage space over the rear-mounting engine location.
The Ghia City Car, with its reverse-hinged "suicide doors" and rear hatch is an almost impossibly compact package, an expression of Ghia's talent in creating an "industrial" design. Only 54 inches wide and 101 inches long, the Ghia City Car is only 6 inches wider and 5 inches longer than a standard US 4'x8' sheet of plywood.
It is built on a wheelbase barely 5 feet 3 inches long. Currently a non-running concept, the Ghia City Car is in remarkably good condition for its age. The doors and rear hatch work. Its metal body is smooth and straight with even panel gaps.
The windows are made of glass. Riding on tiny 10" cast alloy wheels with 145 SR 10 Goodyear tires and a working suspension, the Ghia City Car is very presentable although there are some small paint defects on the nose and stress cracks showing at the top of the windshield posts. Its flaws are remarkably minor in view of its maturity.