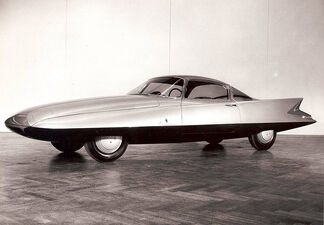 The
Ghia Gilda I
was a concept car made in 1955.
The car was created in a wind tunnel at Turin Polytechnic, this long, radically finned device mutated through several generations, still being displayed at shows with great success as late as 1960.

The car was designed by Giovanni Savonuzzi, the Ghia Gilda astounded the public at car shows with its extraordinary architecture which over time brought it praise and inevitable doubts. There were many sceptical comments about its declared maximum speed: 225 km/h (140 mph).
Some claim that out of caution it never raced at that speed. After the presentation at the Salone di Torino of 1955 and in other European shows, the Gilda left for the USA as a guest at the Henry Ford Museum of Dearborn. It has passed its life on the catwalks as the queen of styling and elegance competitions. Conceived as an exercise in style and with ambitions of high performance, it has a tail that was made to house a turbine engine.