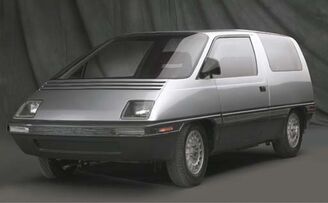 The
Ghia Mini Max
was concept car built in 1982.
Mini Max is a concept for a two-door sport wagon with a commodious rear compartment and an immense nearly vertical glass rear hatch. Attractively styled with a sloped nose that leads directly into the windshield and covered headlights, the Ghia Mini Max concept is undoubtedly aerodynamically efficient while at the same time accommodating a large internal volume within a small footprint.
The Mini Max appears to have been constructed in fibreglass. Only the driver's door is functional. There is a full interior upholstered in red velour with grey carpet and trim. A single spoke steering wheel is fitted and a formed clear plastic dummy panel is mounted to the steering column. 12" cast alloy wheels are fitted with 155SR-12 tires. Glazing is Plexiglas and the side windows are fastened to the frames with exposed screws.
The car has two comfortable and reasonably bolstered bucket style front seats. Bench-style rear seating is provided and it is likely the rear seat back folds for access to, and expansion of, the cargo area. The date of Ghia Mini Max's creation is not known at the time of cataloguing, however its livery and aerodynamic cues suggest it may have been during the period when Ghia was creating the highly aerodynamic Probe series.