Ghostbusters
is a 1984 American science fiction comedy film directed by Ivan Reitman and written by Dan Aykroyd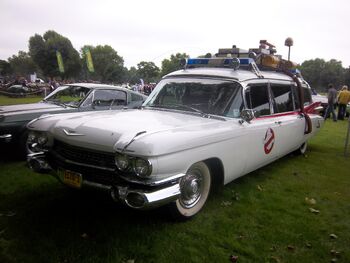 and Harold Ramis. The film stars Bill Murray, Dan Aykroyd, Sigourney Weaver, Harold Ramis, and Rick Moranis and follows three eccentric parapsychologists (Murray, Aykroyd and Ramis) in New York City, who start a ghost catching business.
Ghostbusters
was released in the United States on June 8, 1984 and like several films of the era, teamed Aykroyd and/or Ramis with Murray. The film made US$238,632,124 in the United States alone, the equivalent of $538,260,000 in 2010 prices, ranking
Ghostbusters
as the 32nd biggest grossing in U.S. box office history after adjustment for inflation.
Car
1959 Cadillac Miller-Meteor ambulance (this car is part of the movie).
Community content is available under
CC-BY-SA
unless otherwise noted.