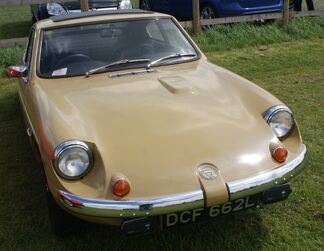 The
G21
was a two-seater kit car manufactured by Ginetta from 1973 to 1974. It replaced the company's
G15
model, which was marketed from 1967 to 1973.
Standard G21 cars were fitted with an inline-4 1725cc Sunbeam or 3 litre Ford V6 engine, but some prototypes were built with 1.6 litre Ford engines, and a variant of the car, the G21S, featured a more powerful 1725cc Holbay H120. The vehicle was built using components based on those of Rootes Group cars.
It was capable of going from 0 to 60 mph in 9.7 seconds and had a top speed of about 112 mph. The G21 generated 79 bhp of power at 5200 rpm.
It was discontinued in 1974, a year after the car's introduction, as a result of the 1973 oil embargo between the Organisation of the Petroleum Exporting Countries (OPEC) and certain western countries, including the United Kingdom, where Ginetta Cars Limited was headquartered.
Only 70 G21s were made during its short lifetime.
Gallery
Community content is available under
CC-BY-SA
unless otherwise noted.