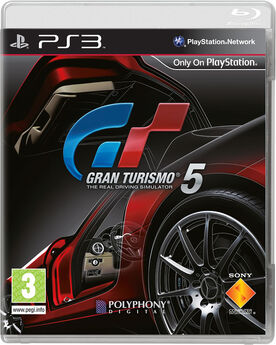 Gran Turismo 5
(commonly abbreviated as GT5) is the fifth edition of the Gran Turismo racing video game series. Developed by Polyphony Digital and published by Sony Computer Entertainment, it was released for PlayStation 3 on November 24, 2010. It expands on the game's Prologue version and is the first entry of the series to be developed for PlayStation 3.
The game marks the first entry in the series with online races with support for up to 16 players. A damage model has been included with variations of damage depending on whether the vehicle falls into the "standard" or "premium" category. Over 1,000 cars, 26 different locations, and 71 different tracks are available in the game. Night racing also returns.
World Rally Championship, NASCAR and Super GT licenses are utilized for the first time in the Gran Turismo franchise.
Classic Cars in the game
Alfa Romeo Giulia Sprint GTA
Alfa Romeo Giulia Special
Alfa Romeo Spider 1600 Duetto
Alpine A110
Audi Quattro
Autobianchi A112
BMW 2002 Turbo
Buick GNX
Citroën 2CV
DOME-0 (Zero)
Ferrari 512 BB
Ginetta G4
Honda City Turbo
Honda Civic
Honda CR-X
Honda N360
Honda S500
Honda S600
Honda S800
Honda Today G
Honda Z-ACT
Honda 1300
Isuzu Bellet
Isuzu Coupe 117
Isuzu Piazza XE
Jaguar E-Type
Jaguar XJ13
Jaguar XJR-9
Coming soon!
Jensen Interceptor Mk III
Lamborghini Countach LP400
Lancia Delta
Lotus Elan S1
Lotus Esprit
Lotus Europa Special
Mazda Carol 360 Deluxe
Mazda Cosmo Sport
Mazda RX-7
Mazda 110S
Mercedes 300SL
Mini Marcos
Coming Soon!
Mitsubishi Galant
Mitsubishi Lancer EX 1800 GSR IC Turbo
Nissan Be-1
Nissan Bluebird
Nissan Fairlady Z
Nissan Fairlady 2000 (SR311)
Nissan Silvia
Nissan Skyline
Nissan 240ZG (HS30)
Peugeot 205 Turbo 16
Plymouth Barracuda
Plymouth Superbird
Pontiac GTO
RUF BTR
RUF CTR 'Yellow Bird'
Shelby Cobra
Shelby GT350R
Subaru 360
Toyota Celica
Toyota MR2
Toyota Sports 800
Triumph Spitfire 1500
Volkswagen Beetle
Volkswagen Golf I
Volkswagen Karmann
Volkswagen Kublewagen
Volkswagen T2