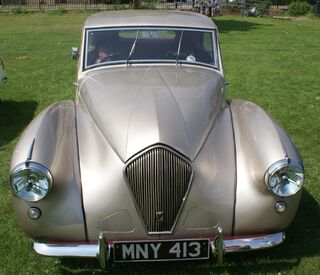 The Healey Tickford was a model of automobile made between 1950 and 1954. The Tickford was a four-seater two-door coupe.
It was commissioned by Brooklands of Bond Street (a Healey agent). Healey supplied the running chassis and Tickford fitted the body to it. A total of 224 cars were produced.
The car was fitted with a 2443cc straigh-four OHV engine.
Autocar quoted the car's top speed as 102mph from its 104bhp engine, with 60mph being achievable from standstill in a sprightly 14.6 seconds.
The exterior bodywork was made from aluminium which was fitted to an ash frame.
Early Tickfords featured enclosed rear wheel spats, and spot lamps alongside the grille rather than the small grilles that would replace them in 1951.
In 1951, the price of a Tickford was £1,854 (including Purchase Tax).
Gallery