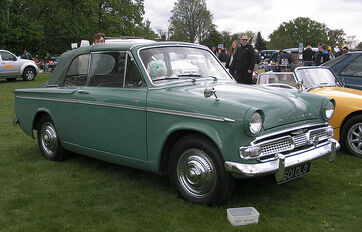 The Hillman Minx was a series of middle-sized family cars produced under the Hillman marque by the Rootes Group between 1932 and 1970. There have been many versions of the Minx over the years, as well as various badge-engineered versions which were sold under the Humber, Singer, and Sunbeam marques.
Aero Minx
The Aero Minx was built between 1932 and 1935 with 650 examples being made. The car was fitted with a four-cylinder 1185cc engine which produced 35bhp. The car was fitted with a three-speed (later four-speed, with synchromesh on all gears) gearbox. It was fitted with mechanical brakes and they cost £245 for the saloon.
The 1960s
For most of the 1960s the Minx and its derivatives were the greatest-volume sellers of the "Audax" family of cars from Rootes which also included theSinger Gazelle and Sunbeam Rapier. The final version of the Minx was the "New Minx" launched in 1967, which was part of the "Arrow" family and essentially a basic version of theHillman Hunter. Generally the Minx was available in four-door saloon and estate forms, with a 1496 cc engine.
The Hillman Super Minx was a slightly larger model offered during the Audax era.
Throughout the life of the Minx there was usually an estate version, and from 1954 to 1965 there was also a short-wheelbase estate, the Hillman Husky, and additionally a van derivative of that, known as the Commer Cob.
The Minx brand was revived briefly – along with the "Rapier" model name, as applied to the Sunbeam Rapier version of the Audax family – as a special edition late in the life of theTalbot Alpine /Talbot Solara cars, produced byChrysler Europe after the demise of the Rootes Group.Group between 1932 and 1970.
Gallery
Community content is available under
CC-BY-SA
unless otherwise noted.