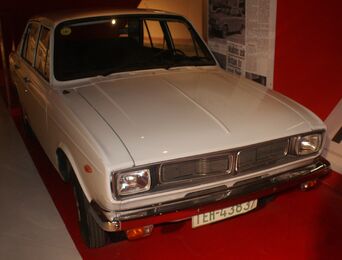 The Hillman Paykan was a car produced in Iran from 1966 until 2005.
The Paykan design was based on the 1967 Hillman Hunter (also known as Rootes Arrow), which was originally designed and manufactured by the British Rootes Group.
The design was introduced to Iran by Mahmoud Khayami, co-founder and, by then, owner of the Iran Khodro (formerly called "Iran National") company and factory, who accurately predicted that Iran was in need of a simple "no-frills" automobile within the price range of ordinary people.
In 1967, Rootes began exporting Hunters to Iran Khodro in "complete knock down" (CKD) kit form, for assembly in Iran. In 1972, it seemed that every car in Iran was a Paykan. By the mid-1970s, full-scale manufacture of the car, less the engine, had started in Iran.
In 1978, Peugeot took over the Rootes company after it collapsed under the ownership of Chrysler Europe; a year later Peugeot ended Hunter production. Thereafter, the Paykan's engine production tooling was moved to Iran and was in full-scale manufacture under Peugeot license until 2005.
Although Paykan was based on an old 1966 model, there were many changes and modifications made to it over the years, notably the substitution, for the original 1725 cc Rootes engine, of a Peugeot 504-derived unit. The modifications to the exterior included a new stock body kit and head and tail lights.
Community content is available under
CC-BY-SA
unless otherwise noted.