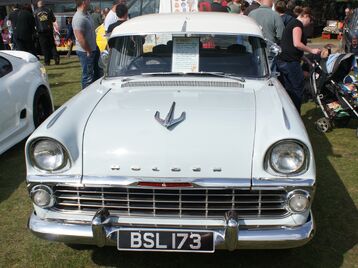 The
Holden EK
series is a motor vehicle that was produced by General Motors-Holden's in Australia from 1961 to 1962. Introduced on 2 May 1961, the EK series was a facelifted version of the Holden FB, which it replaced.
Model range
The EK range consisted of four-door sedans in two trim levels, five-door station wagons in two trim levels, a two-door coupe utility and a two-door panel van. The six models were marketed as follows:
Holden Standard Sedan
Holden Standard Station Sedan
Holden Special Sedan
Holden Special Station Sedan
Holden Utility
Holden Panel Van
Changes
The EK was a minor facelift of the superseded FB series, with obvious changes limited to a new grille and body side mouldings. Other changes included a revised interior trim, electric wipers, a new heater unit and the addition of a bonnet lock. The only significant mechanical change from the FB was the introduction of the first automatic transmission to be offered on a Holden. Marketed as the Hydra-Matic, it was a three-speed unit which was fully imported from the United States. It was only offered on the Holden Special models.
The carrying capacity of the Utility and Panel Van were increased from 8 cwt to 10 cwt by fitting upgraded springs.
Engines
All EK models were powered by a 138 cubic inches (2,260 cc) inline six-cylinder engine, producing 75 brake horsepower (56 kW).
Production and replacement
After a production run of 150,214 vehicles, the EK was replaced by the Holden EJ series in July 1962.