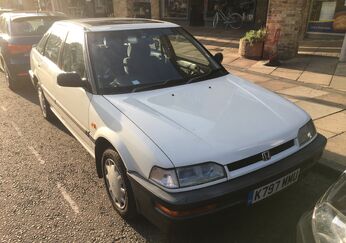 The
Honda Concerto
is an automobile co-developed by
Honda
and the Austin Rover Group, derived from the
Civic
and introduced on June 15, 1988, produced from then until 1994.
Named for the musical composition, and primarily designed for European tastes, the Concerto was the successor to the Honda Ballade and the Honda Integra which was discontinued for the European Market owing to its unpopularity.
The Concerto was sold in both liftback and sedan and built in two locations, Austin Rover's Longbridge plant for the European market, and by Honda in Suzuka, Mie, Japan. One difference between the British built and Japanese built Concertos was in the front suspension - versions built in Longbridge had MacPherson struts, unlike their Japanese counterparts which had double wishbones.
Although Japanese production began in June 1988, European deliveries only really began after British Concerto production commenced at the end of 1989. In most European countries, and Australia, it was sold as the five-door liftback version only. It acted as replacement for the disappointing Honda Integra five-door liftback in some markets. The sedan version lasted until 1993 for most nations, especially in the United Kingdom where sales were lower compared to the Rover 200 and Rover 400 Series, which was considered the more upmarket of the two vehicles.
Engine choices were:
1.4 L (SOHC carb) with 88 hp DIN (65 kW)
1.5 L (SOHC SPI) with 90 hp DIN (66 kW)
1.6 L (SOHC MPI) with 115 hp DIN (85 kW)
1.6 L (DOHC carb) with 106 hp DIN (80 kW)
1.6 L (DOHC MPI) with 130 hp DIN (96 kW)
1.8 TD turbodiesel (Peugeot-supplied), sold in France, Italy and Portugal only as a badge-engineered Rover 200 diesel
In Japan and other Asian/Australasian countries, the Concerto was also available with an SOHC 1.6 L dual carb engine. Four-wheel drive was also an option in Japan, later shared with the Civic-based compact SUV, the Honda CR-V.
The Concerto was sold internationally on a platform which was shared with the popular Civic. Just like the five-door Integra it replaced, it offered more features than the Civic and was aimed at a more prestigious section of the market. The styling of the Concerto reflected an influence from the Honda Ascot, most notably the six-light window treatment of the greenhouse.
Honda stopped manufacturing the Concerto in Great Britain when its partner, Rover, was taken over by BMW in 1994. Up until that point the two companies had been merged up to 20% equally with each other and had collaborated with this model and many others in both companies ranges. The Concerto's replacement in Japan was the Honda Domani, which also formed the basis for the succeeding Rover 400 and 45. In Europe, the five-door hatchback and estate variants of the Domani were sold as Civics, in order to avoid having two different nameplates in the lower midsize segment.