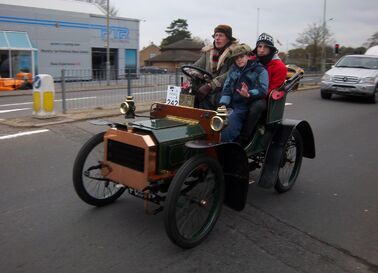 The
Humberette
was one of the first cars made by Humber of Beeston, Nottingham. Produced from 1903-08, the single-cylinder Humberette (small Humber) was well-made and sturdy and had a remarkable ability to carry a decent payload.
It had a front-mounted, water-cooled engine, a leather-covered cone clutch, a two-speed gearbox controlled by levers under the steering wheel and a drive shaft to the rear wheels. The steering wheel only had a single spoke, half a century before they famously appeared on Citroëns.
To start with, it was fitted with 611 cc engine, however this soon became underpowered and so by 1904 it was enlarged to 762 cc. When the Beeston factory closed in 1908 and Humber moved to Coventry, the Humberette was dropped, although the name was revived in 1914 for a larger V-twin-powered car.
Gallery
Sources
Graham Robson.; Michael Ware (2002). Handbook of Classic British Cars. Leicester: Bookmart Ltd.