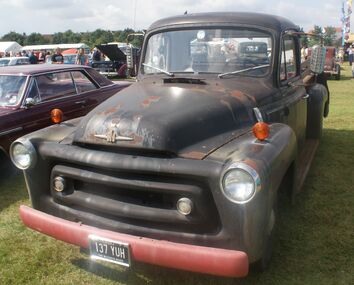 The International Harvester S-Series was a medium-duty truck line manufactured by International Harvester. The S-Series was first introduced in mid-1977 as a replacement for the International Harvester Fleetstar. In 1979, other versions of the S-Series were introduced as the successor to the Loadstar. Like the Loadstar, the S-Series were straight trucks commonly used for local delivery; the versions replacing the Fleetstar were semi-tractors or severe-service straight trucks. Additionally, the S-Series (and its replacement, the 3800) proved popular in the school bus industry. The S-Series was the last product line designed from the ground up from International Harvester; it was produced in its original form until the end of the 1980s. Production of the second-generation S-Series ended in 2001.
Design History
The origins of the S-Series nameplate date to 1955, when International Harvester introduced a successor to the R-Series. This S-Series was available primarily as light-duty (pickup) and medium-duty trucks. Production of the light duty S-Series ended in 1957, when it was replaced by the A-series.
In 1987, to reflect the corporate change from International Harvester to Navistar International, the S-Series received new badging. The IHC logo seen on the steering wheel was replaced by the Navistar diamond logo. On the outside, the International name was moved from the top to the bottom of the grille. Instead of matching the grille color, all S-Series trucks wore a red International badge.
Most of the components were carried over into an updated line of medium duty trucks (the straight trucks were re-branded International 4000 Series, while the tractors became the International 8000 Series) with a redesigned hood and interior in 1989. These products underwent interior updates in 1992 and 1995, remaining in production until the end of the 2001 model year.