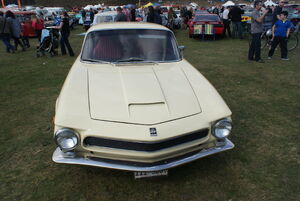 The Iso Rivolta is a luxurious Coupé introduced in 1962 by Iso Automotoveicoli S.p.A. of Bresso, a suburb of Milan. Company chairman Renzo Rivolta and his colleague, former Ferrari engineer Giotto Bizzarrini saw it as a Gran-Turismo Car in the original sense of the term, designed for long and memorable journeys. For motor racing, however, the car was homoligated not as a GT but as a Touring Car.
Construction
The manufacturer wanted the car to be known for its powerful engine, high quality of construction and elegant style. Expensive press-tool dies were produced, but volumes never justified the investment in presses to go with them, and for several years the dies were kept at the factory and periodically sent out to be fitted to a sub-contracted press in the area in order that a batch of body panels could be produced.
Engine and running gear
Although originally envisaged as a competitor for the elegant Fiat 2300 Coupé, the low sales volumes achieved by the Iso Rivolta 300 made it prudent to move the car and its price upmarket. A 5.4 litre V8 engine was fitted, similar to one of the units installed in the Chevrolet Corvette. The all-synchromesh four-speed gear change was operated with a central floor mounted stick shift.
Chassis
The front wheels of the Iso Rivolta 300 are suspended by linkages of uneven length with a sway bar. The rear wheels are attached with twin trailing arms using a De Dion axle with a Watt's linkage. Coil springs and telescopic hydraulic shock absorbers are fitted to all four wheels. The recirculating ball steering system needs five turns from lock to lock: the turning circle is unusually large at approximately 12.5 meters. With a 7 ° 30 ' caster angle, straight-line stability is excellent even at 200 km/h (124 mph).
Interior
The Bertone designed coupé has a wheelbase of 270 cm, which enables five people to sit in comfort. The interior is equipped with leather seats. The arrangement of steering wheel, gear shift, switches and pedals is considered as exemplary.
Gallery