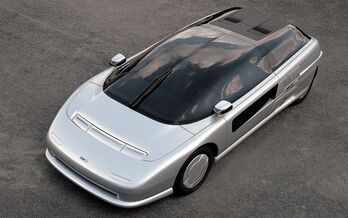 The
Italdesign Aspid
is a concept car that was built in 1988.
It is one of three similar designs penned by Giorgetto Giugiaro during 1988. Each one is wedge shaped with a large glass canopy over top. The Aspid has the longest glass canopy that flows from the hood to the engine compartment.
The Aspid's engine rests just behind the passenger compartment, but still allows for a large luggage space behind it. The rear decklid and the passenger canopy can open up and out of the way to give ease of entry.
The Aspid was fitted with a turbocharged 2226 cc (136 cu) inline-5 engine that produced 199.9 bhp at 6200 rpm. A five-speed manual gearbox was also fitted.