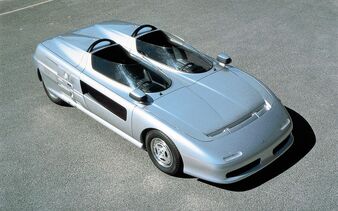 The
Aztec
is a concept car introduced by ItalDesign in 1988. The two-seater is unique because the driver and passenger are separated, requiring the two parties to communicate electronically. It was fitted with a five cylinder DOHC 200 PS (147 kW; 197 hp) Audi Turbo engine, and using
Lancia Delta
Integrale derived four-wheel-drive system. Only 18 or 50 (different sources) of these cars were ever built, and recently one sold for $75,000; a far cry from the $225,000 they were sold for originally.
The designer, Giugiaro, also designed the Lotus Esprit and the Maserati Boomerang.
The 1990 comedy film, Frankenstein Unbound, was little more than a long commercial for the car.