The
Jaguar Mark V
was the first new model to be introduced by British carmaker Jaguar after the end of the Second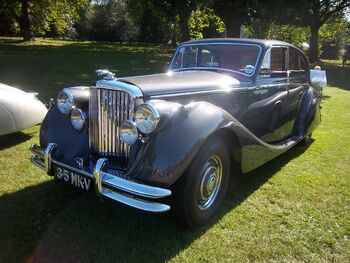 World War. William Lyons was not only the company chairman and majority stockholder, he was the chief stylist. He and his team of sheet metal workers known as panel beaters put together five prototype mock-ups before he was satisfied with the result, and so that is how the Mark V got its name, always printed in company brochures as the Roman numeral V, never the Arabic numeral 5. It replaced the pre-war model, which had been continued for three years of post-war production with slight changes, and is now unofficially known as the
Mark IV
because it came before the Mark V.
The Mark V featured an entirely new chassis designed by Jaguar's chief engineer William Heynes. It was the first Jaguar with independent front suspension and ball joints, first with torsion bars, first with hydraulic brakes, first with the chassis passing over the rear axle for greater comfort, as opposed to an under-slung arrangement, and first to be specifically designed to be produced in Left Hand Drive, primarily for the North American market. It was also the last with the push-rod engines originally designed in the 1930s by the Standard Motor Company, though after the war the engines were built by Jaguar.
The Mark V filled a market need, sold well for three years, particularly in the USA and Australia, and with the profits enabled the company to tool up for production of the XK120 with its fabulous twin cam engine.
Production ended in 1951, by which time it had been superseded by the Mark VII with its XK engine.
Community content is available under
CC-BY-SA
unless otherwise noted.