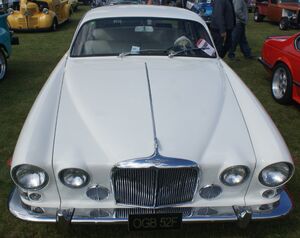 The Jaguar Mark X (10) replaced the Mark IX and was an evolution in the Jaguar sports / luxury brand. The car was low, sleek, stylish, comfortable and incorporated some of the most advanced features such as use of the monococque as opposed to the Mk IX's separate chassis arrangement. The car was initially offered with the enormously popular and respected 3.8 Litre straight 6, the very same engine which had powered some of Jaguars competition cars to success in the Le Mans Races. The most noticeable feature of this car was it's gargantuan proportions, it was designed to appeal to the American market and the US drivers preferred the larger car. This Jaguar still holds the record for being the widest ever production car produced in the UK. This model was rebadged as the Jaguar 420G in the late 60's and continued in production alongside the Mark 2, S-Type, E-Type and was phased out once the XJ6 became established. As the 420G it had the 4.2 Litre straight 6 engine only. Externally, the 420G could be told apart from the Mk 10 by a chromed sidestrip and a vertical strip at the centre of the grille, the top of the dashboard had a padded roll with an integrated clock.
Styles and Major Options
The Mk 10 was available with the 3.8 Litre engine initially. A 3-speed automatic gearbox was offered, (and mainly chosen), although some customers opted for the 4-speed manual box with overdrive. The 4.2 Litre straight-6 became available and shortly after the car was re-badged as the Jaguar 420G, (the 'G' reputedly standing for Grand and helping to differentiate this model from the Jaguar 420). Some Limousine versions were produced with division to the passenger compartment and cocktail cabinets / TV available. There were some specialist conversions which included stretched limousines and 2-door convertibles. The standard car was supplied well trimmed with leather and walnut as you would expect of a car of this marque at this time, the seating arrangement was extremely capacious and comfortable, there were walnut faced picnic tables for the rear passengers. Extras when purchasing would have included, seatbelts, electric windows, folding sunroof, stereo system, etc.
Gallery
Community content is available under
CC-BY-SA
unless otherwise noted.