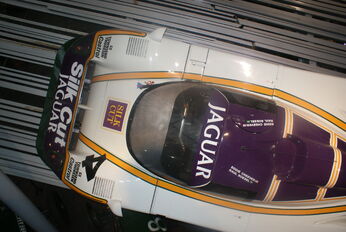 The XJR-8 was a prototype racecar chassis built for the 1987 season.
Over the winter of 1986, TWR continued their development program and made many (sixty-four to be precise) detail changes to create the XJR-8 (Group 44's latest IMSA GTP car used the XJR-7 moniker).
No doubt the single biggest change was the increase in displacement to 7 litre, boosting the power to 720 bhp. It proved to be the winning formula with the TWR Jaguar team winning eight of the ten races in the World Championship and obviously the championship.
Three cars were prepared for Le Mans with special low drag bodies, but it was again not to be for the Jaguar team. The only surviving XJR-8 limped to finish after gearbox problems robbed it from a clear shot at the victory. Porsche won for the fifth year running and as always their strength was in numbers, with the factory team backed up by many privately entered 962s.
Community content is available under
CC-BY-SA
unless otherwise noted.