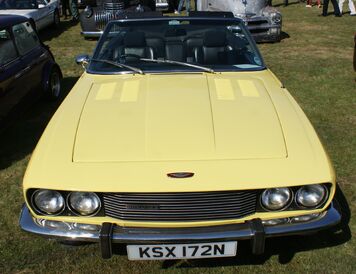 The
Jensen Interceptor
was a sporting GT-class car hand-built in the United Kingdom by Jensen Motors between 1966 and 1976. The Interceptor name had been used previously by Jensen for an earlier car made between 1950 and 1957. The car broke with Jensen tradition by having a steel bodyshell instead of glass-reinforced plastic and by having the body designed by an outside firm, Carrozzeria Touring of Italy, rather than the in-house staff. The early bodies were Italian-built, by Vignale, before production by Jensen themselves began – with subtle body modifications – in West Bromwich.
Model history and specifications
The engine was a Chrysler V8 initially of 6276 cc (383 c.i.) with optional manual (Mark I, only 22 built) or TorqueFlite automatic transmissions driving the rear wheels through a limited slip differential in a conventional Salisbury rear axle. The engine grew to 7212 cc (440 c.i.) in late 1971 with 4-barrel carburation. The SP (Six-Pack) model of 1971–73 offered 3x2-barrel carburation; only 232 were built and had the distinction of being the most powerful car ever to have been made by Jensen (390 hp (290 kW)).
The Interceptor took its styling cues from the Brasinca Uirapuru, with a distinctive large, curving wrap-around rear window that doubled as a tailgate. The original specification included electric windows, reclining front seats, a wood rimmed steering wheel, radio with twin speakers, reversing lights and an electric clock. Power steering was included as standard from September 1968.
The Mark II was announced in October 1969, revised frontal styling and vented disc brakes. The Mark III of 1971 had revised seats, fully cast alloy wheels plus some other improvements. The Mark III was divided to G-, H-, J-series and 'S4-series', depending on the production years. The 'S4-series' version of Interceptor III was the most luxurious Jensen built.
The Interceptor was briefly re-introduced in the 1980s as the Series 4 (S4), as a low-volume 'specialist' motor car in much the same way Bristol continue to market and manufacture their cars. Though the body remained essentially the same, a newer, so called 'cleaner', engine was used and the interior slightly re-designed with the addition of 'sports' front seats as opposed to the armchair style of the earlier models.
It wasn't to be, however. The then owner sold up in 1988 to an engineering company believed to be in a stronger position to manufacture the car which lasted until 1993, and they did commence development work on a series 5 (S5) Interceptor until once again receivers were called in.
Variants
A convertible with powered soft top was introduced in 1974 mainly intended for the American market but also sold in Europe. 267 convertibles were made.
Rarer still is the Coupé version with just 60 made, derived from the convertible and introduced in 1975, just a year before the company's demise. It could be said though this version detracted from the rakish, stylish looks of the GT.
Jensen FF
Jensen were one of the first manufacturers to equip a production car with four-wheel drive, in the shape of the 1967 Jensen FF (Ferguson Formula). At the time it was hailed as a remarkable development, coming also with anti-lock brakes and traction control. The car is four inches (100 mm) longer than the Interceptor, although it looks very similar, with a tell-tale addition of extra side vents ahead of the doors on the front flanks (resulting in two vents per side rather than one). Press from the time quote "drag-strip" performance when describing the car. In total 320 FFs were produced; 195 Mark I, 110 Mark II and 15 Mark III.
The Jensen Interceptor R
There were plans, in 2007, for a Jensen specialist based at Cropredy Bridge to rebuild original Interceptors using modern components.
In May 2010, Jensen International Automotive was set up, with the financial backing and know-how of Carphone Warehouse founder and chairman Charles Dunstone who joined its board of directors. A small number of Jensen Interceptor Ss, which had started production under a previous company, are being completed by Jensen International Automotive (JIA), in parallel with JIA's own production of the new Jensen Interceptor R; deliveries of the latter have started (beginning of 2011) at the Oxfordshire-based manufacturer and restorer. Tony Banham is JIA's Managing Director.
Galllery
Community content is available under
CC-BY-SA
unless otherwise noted.