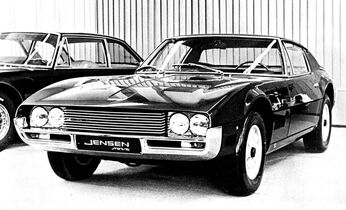 The
Jensen Nova
is a concept car that was built in 1966 and shown at the 1967 Geneva Motor Show.
During 1966, Alfredo Vignale asked Jensen Motors if he could purchase a LHD chassis to build his own body on. It's believed Vignale wanted to build one of his own designs, which he had submitted to Jensen Motors for the CV8 replacement body. Both Vignale and Touring had submitted designs to Jensen Motors in 1966, and Vignale's designs had been turned down in favour of one by Touring.
The commissioned  wheelbase was slightly shorter than that of the standard Interceptor chassis. The chassis was supplied with a Chrysler 383 engine, along with a Chrysler 4-speed manual gearbox. The completed chassis was then sent to Vignale in October 1966. The design exercise was going to be a striking two-seater fast-back styled body with lowered engine mounts, allowing a lower bonnet line. The front had an unusual design, featuring electrically operated retractable headlights.
By February 1967, the completed car was ready, sporting a specification of dark metallic green, with a black roof panel. The interior had an unusual combination colour scheme of beige and black. The bodywork was alloy and fibreglass, with quite lavish stainless steel integral finishing to the front and rear, instead of normal bumpers. The sill covers were painted metallic green, as per the body, but with stainless steel jack point covers. Vignale chose Campagnolo alloy wheels to finish the car off.
Directly after the Geneva Motor Show, the Nova was stripped down, resprayed in an off white cream, and re-trimmed in red leather. Vignale obviously wasn't entirely pleased with the styling to the rear end of the car, as the styling was modified before being resprayed. Additionally, Jensen Interceptor style stainless steel sill covers were also fitted, along with stainless jack point covers.
Community content is available under
CC-BY-SA
unless otherwise noted.