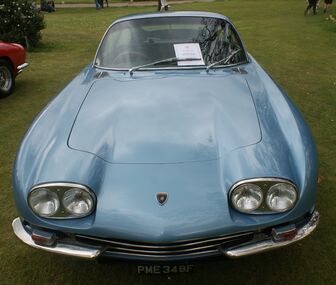 The Lamborghini 400GT is the name given to two gran tourismos produced by Italian manufacturer Lamborghini.
The first 400GT, commonly referred to as simply the 400GT or 400GT Interim, was essentially the older 350GT featuring an enlarged, 3929 cc (240 c.i.) V12 engine, with a power output of 320 bhp (239 kW). Twenty-three of these cars were built, with three featuring aluminium bodywork.
The second 400GT, commonly known as the 400GT 2+2, had a longer wheelbase, different roofline, and minor sheetmetal changes compared to the 350GT and first 400GT. It was first presented at the 1966 Geneva Auto Show. The larger body shape enabled the +2 seating to be installed in the rear, where the 350GT only had room for luggage or +1 seating. The bodywork was designed by Carrozzeria Touring. The 400GT 2+2 also had a Lamborghini designed gearbox, with Porsche style synchromesh on all gears, which greatly improved the drivetrain.
A total of 247 units of the 400GT 2+2 were built from 1966 to 1968, when it was replaced with the Islero.
A special, one-off version called the 400GT Monza was built by Neri and Bonacini, who had previously worked on the 350GT.
Gallery