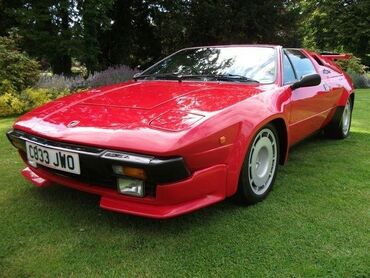 The Lamborghini Jalpa is a sports car produced by the Italian sports car manufacturer Lamborghini from 1981 to 1988.
Overview
The Jalpa was a development of the earlier Silhouette intended to fill a role as a more "affordable" Lamborghini, being much less expensive than the flagship Countach and being also designed by Bertone. Compared to the Countach, the Jalpa was much easier to drive, having better visibility and being more tractable in heavy traffic and at slow speeds.
Name
The name Jalpa came from a famous breed of fighting bulls, tradition later followed with the Gallardo.
Engine
Instead of the flagship's V12, the Jalpa was fitted with a V8 engine displacing 3.5 L (210 cu in) that produced 252 hp (188 kW; 255 PS) at 7000 rpm and 231 lb·ft (313 N·m) at 3500 rpm.
Performance
Lamborghini claimed the Jalpa could accelerate from 0 to 62 miles per hour (100 km/h) in 6.0 seconds, to 100 miles per hour (160 km/h) in 19.1 seconds and a 1/4 mile time of 15.4 at 92 miles per hour (148 km/h) with a top speed of 234 kilometres per hour (145 mph). Curb weight was 1,510 kilograms (3,329 lb).
Classic & Sports Car magazine, however, quoted a 0-60 mph time of 6.8 seconds and a 0-100 mph time of 16 seconds for the Jalpa.
Revisions and end of production
When the car hit the market in 1981 the plastic components (bumpers, air intakes and engine cover) were black, and the car carried over the rectangular taillights of the Silhouette, this however was changed in 1984 when round taillights were fitted and the black plastic parts were now finished in the body color.
In 1988, after falling sales, the new owners, Chrysler, decided to end Jalpa production despite being their most successful V8 car to date, having sold 410 units.
Gallery
Community content is available under
CC-BY-SA
unless otherwise noted.