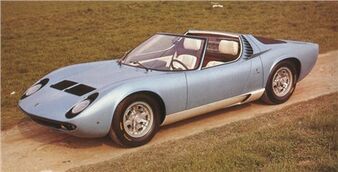 The Lamborghini Miura Roadster is a one-off car built in 1968 by Bertone.
The car was finished in beautiful metallic blue paint and magnolia leather interior, the same combination used on the very first 350 GTV. The car never had any form of top or side windows. It did have many detail alterations to the cockpit such as the Espada prototype steering wheel and rear body work that gave it an interesting appearance. However, the factory had little money to pursue the development of this car and so it never went into production.
The car was sold to the International Lead Zinc Research Organization (ILZRO) of New York, and in 1969 was rebuilt with Bertone's help replacing many parts with Zinc where possible: carburator velocity stacks, inlet manifolds, exhaust system, radiator, oil sump, water pump housing, all water lines, bumpers, grill, steering wheel (note difference from original), switches, door handles, shift lever, hand brake and taillights. Lead was also used as insulation under the floor and in the doors. The interior retrimed in one color, the car was repainted the car this dark metallic green color and used for publicity.
Community content is available under
CC-BY-SA
unless otherwise noted.