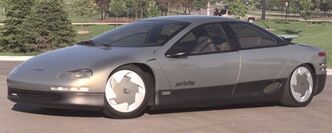 The
Lamborghini Portofino
was a concept car developed for Lamborghini by Kevin Verduyn, one of Chrysler's chief designers.
Introduced at the 1987 Frankfurt Auto Show, it was a fully functional, four-door, four-seat sport sedan. In 1986, Kevin Verduyn designed a concept car model for Chrysler called the Navajo. The concept never went beyond the clay model stage, but when Chrysler acquired Automobili Lamborghini S.p.A. in 1987, the design was resurrected and with some fairly minor tweaks, turned into the Portofino. The Portofino was built by Coggiola of Turin, Italy on a lengthened Jalpa chassis, giving the car a mid-engine rear-wheel drive layout. It also made use of the Jalpa's 3.5 L V8 engine and 5 speed transmission.
The most interesting feature of the Portofino were the front scissor doors, like the Countach, though the back were suicide door-style rear-hinged-doors. The logo on the hood featured the Lamborghini bull inside the Chrysler pentastar. Only the single prototype Portofino, chassis #LC0001, was ever produced. In 1991, it was heavily damaged in an accident in transit. However, Chrysler had it restored by Metalcrafters in Costa Mesa, CA for $300,000, and it is now on display at Chrysler headquarters in Auburn Hills, Michigan. The Portofino was notable for being an early example of cab forward styling, and many aspects of its design made it into the Chrysler LH platform which initially included the Chrysler Concorde, Dodge Intrepid and Eagle Vision.
Community content is available under
CC-BY-SA
unless otherwise noted.