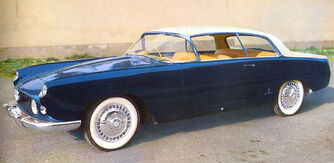 The
Lancia Florida
was a concept car built on a
Lancia Aurelia
chassis and styled by Pininfarina in 1955.
It appeared in 1955 and four of them were made, one 2-door and three 4-door sedans. The Florida had a radical squarish design with a full width grill and decent tail fins. The spacious cabin featured large glass areas and a wrap-around panoramic windshield. Like the standard Aurelia the 4-door Florida special had pillarless, opposed opening doors. All bodies were painted in a tasteful 2-tone colour scheme.
The modern pontoon-like looks of the Florida impressed and intrigued customers and car manufacturers alike. When Lancia came under new management in 1956 it was decided that the successor of the Aurelia should be based on the style and shape of the Florida show cars. This became the Lancia Flaminia which was introduced in 1957.
But it didn't stop there because other manufacturers contacted Pininfarina for similar sedan designs. This way models like the "Farina" saloons of BMC (Morris Oxford V, Austin A 55 Cambridge Mk II, Riley 4/68, Wolseley 15/60 and MG Magnette Mk III) of 1959, the Fiat 1800/2100/2300 berlinas of 1959 (a Mario Boano design under Pininfarina supervision) and the Peugeot 404 of 1960 came on the market.
The new style of the Florida influenced European car design for decades to come and established Pininfarina as one of the most important styling studios.
Community content is available under
CC-BY-SA
unless otherwise noted.