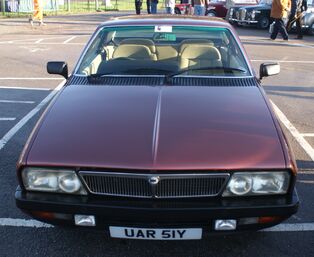 The Lancia Gamma was an executive car from Italian Fiat Auto's up-scale Lancia marque.
Presented in 1976 at the Geneva Motor Show as Lancia's new flagship, it filled the void in Lancia's lineup left by the demise of the Flavia.
The Gamma was made until 1984 as a 4-door fastback (called Berlina) and 2-door coupé (presented in 1977), both designed by Pininfarina. There were only 15,272 berlinas and 6,789 coupés built. As with several other cars of the period, the fastback style had a conventional boot at the rear, and was not a hatchback, despite its appearance.
Gamma is the third letter of the Greek alphabet. Greek letters have been used to denote Lancia models before 1945, and this tradition was revived with the presentation of the FWD Lancia Beta in 1971, the first Lancia to be developed under Fiat supervision. The Gamma can be seen as a continuation, also being FWD and utilizing some suspension elements from the Beta, so the choice of the following Greek character (Beta is second) appears as logical. The Gamma sports the γ (lower case gamma) sign on several badges both inside and outside.
Gallery
Community content is available under
CC-BY-SA
unless otherwise noted.